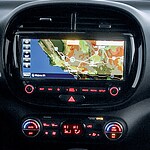 Drivers have spoken, and the Kia Optima ranks in as one of the best midsize cars on the market right now. With space for five, a premium cabin design, and plenty of technology features to keep you safe, the Optima is the perfect car for a new driver, everyday commuter, or even a small family. There is a ton of cargo room in the trunk, and it features the LATCH child seat system, too.
The performance features cannot be ignored in the latest Kia Optima. With a base horsepower delivery of 178, the Optima does something that many others in the same class have failed to do: get fuel economy and acceleration. The Optima gets up to an EPA-estimated 37 MPG on the highway. The premium trims have more power with a turbocharged engine that delivers 245 horsepower.
If you have been waiting to upgrade your car, now is the time to take a look at the options at Griffin Kia. We have the best prices on new car inventory in Meadville.